Related articles
what is my MAC address, how do i find the MAC address of my computer
In computer networking, a Media Access Control address (MAC address), Ethernet Hardware Address (EHA), hardware address, adapter address or physical address is a quasi-unique identifier assigned to most network adapters or network interface cards (NICs) by the manufacturer for identification. If assigned by the manufacturer, a MAC address usually encodes the manufacturer's registered identification number.
Linux system
On Linux systems, the ethernet device is typically called
eth0
. In order to find the MAC address of the ethernet device, you must first become root, through the use of
su
. Then, type
ifconfig -a
and look up the relevant info. For example:


# ifconfig -a
eth0      Link encap:Ethernet  HWaddr 00:60:08:C4:99:AA
          inet addr:131.225.84.67  Bcast:131.225.87.255  Mask:255.255.248.0
          UP BROADCAST RUNNING MULTICAST  MTU:1500  Metric:1
          RX packets:15647904 errors:0 dropped:0 overruns:0
          TX packets:69559 errors:0 dropped:0 overruns:0
          Interrupt:10 Base address:0x300

The MAC address is the HWaddr listed on the first line. In the case of this machine, it is 00:60:08:C4:99:AA.
Windows
If you have TCP/IP installed, run
ipconfig/all
from a Command Prompt window.
(click Start, then Run, then type cmd in the text box.)
Type in ipconfig/all in the Command Prompt Windows.
The 12-digit Physical Address is the same as MAC address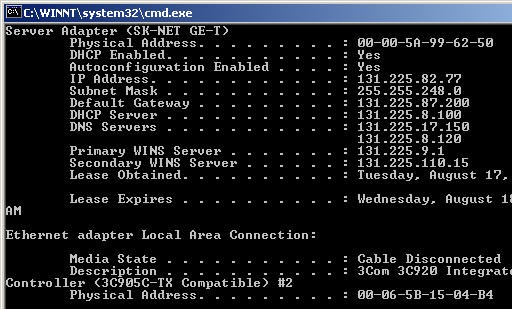 *You will need to register all MAC addresses in cases where you have both wired and wireless interface in your system.
FreeBSD
On a FreeBSD machine the command
dmesg
will display the MAC address, among other things.
Article given us from unknown publisher.